News

New CITIZEN watch models created in collaboration with the HAKUTO-R lunar exploration program, inspired by the light and dark of the Moon
New CITIZEN watch models created in collaboration with the HAKUTO-R lunar exploration program, inspired by the light and dark of the Moon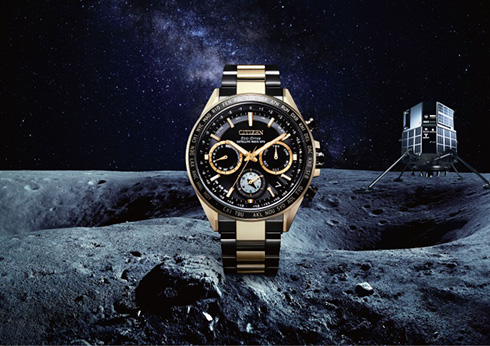 CITIZEN HAKUTO-R Collaboration Models
Eco-Drive*1 GPS SATELLITE WAVE F950 Double Direct Flight – Limited edition of 1,200 units worldwide

 
CITIZEN is proud to announce the launch of a new model created in collaboration with the HAKUTO-R private-sector lunar exploration program.
 
The HAKUTO-R Program is a private-sector commercial lunar exploration program being implemented by our corporate partner, ispace, inc. The program has two missions – to land on the Moon and explore the lunar surface. CITIZEN is scheduled to provide Super Titanium ™*2 parts for the legs of the lunar lander. The watch convey the light and dark of the Moon with Duratect*3 MRK Gold and Duratect DLC.
 
The CC4016-75E model features sophisticated gold highlights on the case and band, evoking the pale light of the Moon using Duratect MRK Gold to harden the surface of the material itself. Duratect DLC used on parts of the bezel and band provides an attractive contrast with a deep black color representing the dark of the Moon. The subdial at the six-o'clock position uses mother-of-pearl to convey the subtle changes in the light of the Moon as it transitions between light and dark. This collaboration model also has an image of the HAKUTO-R lander craft landing on the Moon printed on the case back. The watch uses CITIZEN's advanced F950 Eco-Drive GPS SATELLITE WAVE*4 movement which is capable of receiving time signals in as little as 3 seconds – the fastest GPS satellite signal reception in the world.* The hour and minute hands move twice as fast as previous models to rapidly display the current time. This high-spec model also includes the Double Direct Flight 1/20 chronometer function.

* Fastest satellite signal reception in the world for an analog light-powered GPS satellite wave watch. Figure from CITIZEN's in-house research, as of May 2021

 
Product Features
■ Light of the Moon - CC4016-75E
・Sophisticated gold-colored accents in Duratect MRK Gold contrasting with the deep black color of Duratect DLC to express the light and dark of the Moon
・Mother-of-pearl provides a subtle sheen to the subdial at the six-o'clock position, inspired by the transition of the Moon from light to dark
・HAKUTO-R lunar lander design on the case back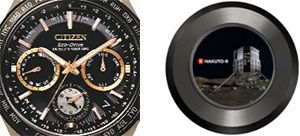 Product Specifications
 
Brand
HAKUTO-R Collaboration
SATELLITE WAVE GPS F950 limited model
Model
CC4016-75E
Launch
September 2021
Price
HK$23,800
Limited quantity
1200 (Worldwide)
Case / Band
Super Titanium™( Duratect DLC・MRK Gold)
Glass
Dual spherical sapphire glass with anti-reflective coating
Case diameter / thickness
44.3 mm / 15.4 mm (design specification only)
Specifications
Cal.F950 / Accuracy ±5 seconds per month (without time signal reception) / Eco-Drive running for 5 years on full charge (in power save mode) / SATELLITE WAVE GPS / W.R. 10 BAR

*1 Eco-Drive is CITIZEN's proprietary technology that powers watches using any natural or artificial light source, eliminating the need to replace batteries. Certified as an Eco Mark product for the first time in the watch industry.
*2 Super Titanium™ is CITIZEN's proprietary technology to treat solid titanium with surface hardening technology. It is at least 5 times harder than stainless steel, resistant to scratches, lightweight and gentle to the skin for comfortable wearing
*3 Duratect is CITIZEN's proprietary surface hardening technology that enhances the surface hardness of metals such as stainless steel and titanium, protecting watch bodies from scratches and damage. This technology offers excellent abrasion quality and maintains lustre of metals for long periods of time. Duratect DLC achieves Vickers hardness of 1,000-1,400 by coating an amorphous carbon hard film—mainly composed of carbon and hydrogen—on the surface of the material. Duratect MRK and Duratect MRK Gold achieves Vickers hardness of 1,300-1,500 Hv by instilling gas onto the surfaces of titanium materials to harden.
*4 GPS satellite-synchronized watch: GPS satellite-synchronized watch captures the date and time signals sent by GPS satellites from space — orbiting 20,000 kilometers above the Earth — bringing ultra-precise timekeeping to wherever people are on the face of the globe.

 
http://ispace-inc.com/)>
 
ispace is a lunar exploration company with over 130 staff and offices in Japan, Europe and the United States. Founded in 2010, ispace managed Team HAKUTO, one of the 5 finalists in the Google Lunar XPRIZE competition. The company is building a small commercial lunar lander, which aims to provide a high-frequency, low-cost delivery service to the Moon, as well as a lunar rover for surface exploration. Aspiring to be a gateway for the private sector to bring their business to the Moon, ispace has also launched a lunar data business concept to support companies with lunar market entry. ispace is part of a team led by Draper, which was selected by NASA to compete in its Commercial Lunar Payload Services (CLPS) Program, and ispace Europe was selected by ESA to be part of the Science Team for PROSPECT, a program which seeks to extract water on the Moon.

 
https://ispace-inc.com/hakuto-r/)>
 
HAKUTO-R is a multinational commercial lunar exploration program operated by ispace. It includes ispace's first two lunar missions: Mission 1, a soft lunar landing planned to launch in 2022[1], and Mission 2, a lunar landing and deployment of a rover planned to launch in 2023[2]. For both missions, the HAKUTO-R lander is planned to launch on SpaceX's Falcon 9 rocket. The program aspires to lay the groundwork for high-frequency lunar transportation.

 

CITIZEN WATCH is a true manufacture d'horlogerie with a comprehensive manufacturing process that extends from creating a watch's individual components to its final assembly. The company operates in more than 140 countries and regions around the world. Since its founding in 1918, CITIZEN has held the belief of "Better Starts Now" — that is, no matter who you are and what you do, it is always possible to make something better, and now is the time to start doing it. Based this belief, we have created watches, invented and improved technologies and explored the future of watches such as our proprietary light-powered Eco-Drive technology and state-of-the-art satellite-synchronized timekeeping.

 
* Duratect ,Eco-Drive, Super Titanium™ are trademarks or registered trademarks of Citizen Watch Co., Ltd.
* Both price and launch date are as scheduled at the time of this release.。