News

Get Ready with CITIZEN to Enjoy
Toy Story & Pixar Pals Summer Splash in Hong Kong Disneyland
Get Ready with CITIZEN to Enjoy
Toy Story & Pixar Pals Summer Splash in Hong Kong Disneyland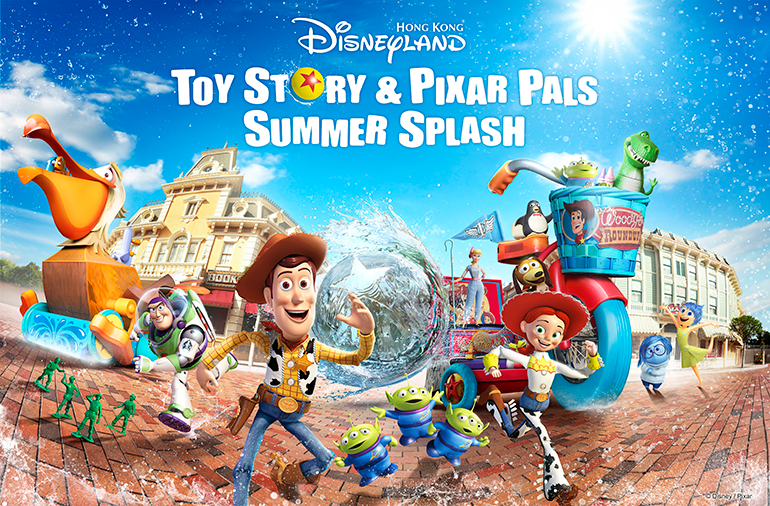 CITIZEN officially partnered with The Walt Disney Company to build a new corporate relationship last year. As part of the long-term promotional alliance, the CITIZEN logos have been displayed on selected timepieces throughout Hong Kong Disneyland Resort (HKDL). Additionally, CITIZEN has been featured as the presenting sponsor of the Times Guide, which shares the schedule of daily events and entertainment at HKDL.

Summer is almost here, it is the perfect time for a water party at HKDL! CITIZEN launches a giveaway event to bring you the fun of the "Toy Story & Pixar Pals Summer Splash" at HKDL this summer. With Toy Story 4 hitting the big screen soon, even more Toy Story excitement is coming to HKDL as the Disney•Pixar friends are waiting to meet everyone. Let's join the enhanced "Pixar Water Play Street Party!" and splash and play together with all your friends and loved ones at this dazzling summer event from 26 June to 1 September in HKDL!

From now until 15th July 2019, customers are entitled to one HKDL 1-Day General Admission ticket upon net purchase over HKD5,000 of any CITIZEN watches at CITIZEN Exclusive Shop in Hong Kong or Macau. While customers are entitled to a one night stay at the Hong Kong Disneyland Hotel upon net purchase over HKD10,000 of any CITIZEN watches at CITIZEN Exclusive Shop in Hong Kong. Offer is valid while stocks last. Don't miss this cool, water-filled celebration!
 

CITIZEN Exclusive Shop
Shop G22, G/F, Hollywood Plaza, 610 Nathan Road, Mongkok, Kowloon
Shop No. K12A, Level 1, Shoppes at Venetian, s/n,Taipa, Macau

Enquiry:2364 0251    www.citizen.com.hk

 

About CITIZEN
CITIZEN WATCH is a true manufacture d'horlogerie with a comprehensive manufacturing process that extends from creating a watch's individual components to its final assembly. The company operates in more than 130 countries around the world. Since its founding in 1918, CITIZEN have held the belief of "Better Starts Now" — that is, no matter who you are and what you do, it is always possible to make something better, and now is the time to start doing it. Sharing this belief, we have made watches, invented and improved technologies and explored the future of watches, such as our proprietary light-powered Eco-Drive technology and state-of-the-art satellite-synchronised timekeeping.

 
About Hong Kong Disneyland Resort
Hong Kong Disneyland Resort offers unforgettable, culturally distinctive Disney experiences for guests of all ages and nationalities. In the magical kingdom theme park—filled with your favorite Disney stories and characters—explore seven diverse lands that are home to award-winning, first-of-a-kind attractions and entertainment. Complete your adventure with stays at the resort's luxurious Disney hotels. The magic doesn't end at our doorstep; as a dedicated member of the local community that cares deeply about societal well-being, Hong Kong Disneyland spreads its magic through community services programs that help families in need, boost creativity among children and youth, encourage the protection of the environment and inspire healthier living.

Please visit  www.hongkongdisneyland.com  for more details.