News

CITIZEN PROMASTER Introducing the world's first*1 light-powered, satellite GPS diver's watch. Features world-famous diving locations inscribed on dial ring
CITIZEN PROMASTER Introducing the world's first*1 light-powered, satellite GPS diver's watch. Features world-famous diving locations inscribed on dial ring
Citizen announces the launch of two new CITIZEN PROMASTER models in the series with Cal. F158 Eco-Drive*2 Satellite Wave GPS, which are to debut in September, 2020.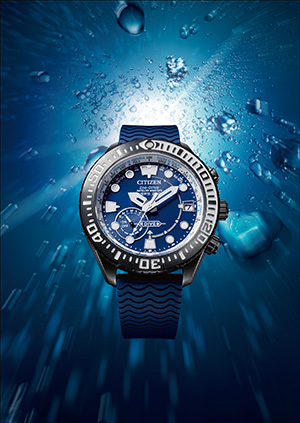 CITIZEN PROMASTER
Eco Drive Satellite Wave GPS Diver 200m
CC5006-06L
The new models represent the world's first light-powered watch with GPS satellite capabilities and 200-meter depth diving function based on the ISO *3 standard. Cal.F158 provides long-lasting power that when fully charged, can continue to operate for about 7 years (in power-saving mode) even without a light source. Satellite signal reception function can be turned off during dive mode by pressing two buttons at 2 and 4 o'clock positions simultaneously. In addition to turning off satellite reception, other functions can also be switched off such as charging and power generation, reception indicator function, power-saving function as well as hands-correction function*4. The dive mode function prioritizes diver safety to prevent erroneous operation and time-critical operations at the push of a button.
 
The dial ring displays the world's 8 most famous diving locations selected in collaboration with the world's largest travel platform, Tripadvisor. Receiving position coordinates, time and date data from GPS satellites makes it possible to display accurate precision time anywhere in the world, including the most famous dive spots.
 
Titanium material — introduced first by CITIZEN for watch construction in 1970 — is used for the casing. Known as Super Titanium™*5, this light, highly scratch- and rust-resistant material has evolved over the past 50 years into an even more improved material, which includes DURATECT*6 MRK surface-treatment hardening technology. DURATECT MRK is a technology that penetrates particular type of gas into the surface of the watch, and makes it harder, especially against impacts. The new case for the CC5006-06L (see photo) is finished in glossy black by layering DURATECT DLC, which takes advantage of the smoother surface and greater scratch resistance.

Other prominent professional design features and functions include high-visibility luminous indices and watch hands, unidirectional bezel with knurled notches that make operation easy even while wearing diving gloves. Moreover, the watch is equipped with authentic diving watch features such as screw lock crown, sapphire crystal glass, charge capacity display function, and light-level indicator*7.

 
[Product Features] The world's first Diver's watch with GPS satellite function
 
The watch receives accurate location and time information anywhere in the world using GPS satellite signals and corrects time and calendar (38 time zones). With only time data, the watch receives GPS satellite signals at the world's fastest*8 speed of 3 seconds". Even without GPS satellite function, the watch keeps accuracy of ±5 seconds per month. Time can be adjusted to the selected city time and calendar with simple crown operation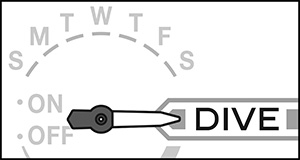 As the world's first diver's watch with GPS satellite function, it gives top priority to diver safety. By pressing the push buttons at 2 o'clock and 4 o'clock simultaneously, the watch enters Dive mode.
All functions, except time display, will be ceased to prevent erroneous user time operations at the push of a button. The watch itself is waterproofed to up to 200m, conforming to ISO standard

 
✓ Turn off satellite signal reception (including automatic time reception).
✓ Turn off charge and power generation confirmation and reception result confirmation functions.
✓ Turn off power save function and hand position correction function.

 
Additionally, the watch is equipped with charge-level display function and light-level indicator. It will not enter Dive mode if the charged battery amount is insufficient so that the diver will know the watch is not in optimum condition before diving. It runs approximately 7 years on full charge when power-saving mode is activated.

 
This model is ideal for divers for both design and function. The 8 best-known dive spots, chosen in collaboration with TripAdvisor, are on the dial ring; Sharm El Sheikh, Maldives, Phuket, Great Barrier Reef, Fiji, Hawaii, Galapagos, Fernando de Noronha.
On the marine blue or emerald green dial, inspired by the ocean of diving spots, luminous large dot indices and thick hands are set to improve visibility. It adopts easy-to-operate unidirectional bezel with knurl, even while wearing diving gloves. The case is made of Super Titanium™, which is feather-light, and resistant to scratches and rust. Finally, the non-slip urethane band comes with an extension band for usage with a wetsuit, and features a wave-motif design.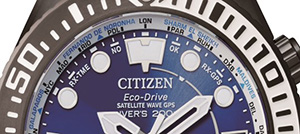 [Product Specifications]
 
 
Brand / Product name
Citizen Promaster / Eco-Drive Satellite Wave GPS Diver 200m
Product Code
CC5006-06L
CC5001-00W
Launch (projected)
Sep 2020
Price (projected)
HKD 10,800
HKD 10,000
Case / Band
Super Titanium™ (DURATECT MRK + DLC / DURATECT DLC) / Urethane (with extension band)
Super Titanium™ (DURATECT MRK / DURATECT Titanium Carbide) / Urethane (with extension band)
Glass
Sapphire Crystal
Case diameter / thickness
47.0mm / 15.6mm (specification only)
Main functions
Cal. F158 / Accuracy of ±5 seconds per month / (without time signal reception) / Eco-Drive running for 7 years on full charge (in power save mode) / Satellite Wave GPS / 200m water resistance
---

About collaboration of CITIZEN and Tripadvisor
This model features the best 8 diving locations exclusively chosen in collaboration with Tripadvisor's reviews and ratings of the top 100 dive and snorkeling locations around the world.
 
About Tripadvisor
Tripadvisor (NASDAQ:TRIP), the world's largest travel platform*, helps nearly 460 million travelers each month** to make every trip their best trip. Travelers across the globe use the Tripadvisor site and app to browse more than 830 million reviews and opinions of 8.6 million accommodations, restaurants, experiences, airlines and cruises. Whether planning or on a trip, travelers turn to Tripadvisor to compare low prices on hotels, flights and cruises, book popular tours and attractions, as well as reserve tables at great restaurants. Tripadvisor, the ultimate travel companion, is available in 49 markets and 28 languages.
*Source: Jumpshot for Tripadvisor Sites, worldwide, June 2019
** Source: Tripadvisor internal log files, average monthly unique visitors, Q3 2019

The Tripadvisor logo and tripadvisor are trademarks or registered trademarks of TripAdvisor LLC.
---

*1 As an Eco-Drive GPS satellite wave watch. As of January 2020, based on CITIZEN's internal research.
*2 Eco-Drive is CITIZEN's proprietary technology that powers watches using any natural or artificial light source, eliminating the need to replace batteries. Certified as an Eco Mark product for the first time in the watch industry. GPS satellite-synchronized watch captures the date and time signals sent by GPS satellites from space — orbiting 20,000 kilometers above the Earth — bringing ultra-precise timekeeping to wherever people are on the face of the globe.
*3 International Organization for Standardization. For ISO, to ensure diver safety, the specifications for divers 'watches are "ISO 6425 divers' watches for diving".
*4 Hand correction function: Automatic reference position correction function for the hour, minute and second hands. The position of each hand is checked at regular intervals. And if deviation occurs, it is automatically corrected and the correct time is maintained.
*5 Super Titanium™ is CITIZEN's proprietary technology to treat solid titanium with surface hardening technology. It is at least 5 times harder than stainless steel, resistant to scratches, lightweight and gentle to the skin for comfortable wearing.
*6 Duratect is CITIZEN's proprietary surface hardening technology that enhances the surface hardness of metals such as stainless steel and titanium, protecting watch bodies from scratches and damage. This technology offers excellent abrasion quality and maintains lustre of metals for long periods of time.
Duratect DLC features smooth texture and glossy lustre, and achieves Vickers hardness of 1,000-1,400 Hv. (Vickers hardness of stainless steel is approximately 200Hv.)
Duratect MRK achieves Vickers hardness of 1,300-1,500 Hv by instilling gas onto the surfaces of titanium materials to harden.
*7 Light-Level Indicator shows how much power the watch is generating through CITIZEN's proprietary Eco-Drive technology on seven levels by detecting the volume of light the dial is receiving. It can be used as a reference for choosing an ideal charging positions.
*8 As an Eco-Drive GPS satellite wave watch. As of January 2020, based on internal research. In 2015, Citizen realized the world's first Eco-Drive GPS satellite reception watch that receives signals to within 3 seconds.

 

Since its debut in 1989, PROMASTER has become an icon of professional sports watches known for superior durability and reliability in extreme outdoor environments from on land, at sea and in the air. The three classifications in the series are designed with high-performance specifications and durability for: MARINE — for sea diving, LAND — for mountain climbing, SKY — for skydiving. PROMASTER is exclusively designed for optimum "functionality," "durability," and "safety," and has inspired the imagination of generations of active sports aficionados who push physical and mental beyond boundaries.

 

CITIZEN WATCH is a true manufacture d'horlogerie with a comprehensive manufacturing process that extends from creating a watch' s individual components to its final assembly. The company operates in more than 130 countries around the world. Since its founding in 1918, CITIZEN have held the belief of "Better Starts Now" — that is, no matter who you are and what you do, it is always possible to make something better, and now is the time to start doing it. Sharing this belief, we have made watches, invented and improved technologies and explored the future of watches such as our proprietary light-powered Eco-Drive technology and state-of-the-art satellite-synchronised timekeeping.

 
*Eco-Drive, Super Titanium™, Duratect, Light Level Indicator are trademarks or registered trademarks of Citizen Watch Co., Ltd.
* The final design and specifications are subject to change without notice.
* The availability, specifications and related information such as product code for the models featured on this site, may vary by market. For more details, including the availability of this product in your area, please select "Local Website" from our global site.