News

CITIZEN L announces three models featuring ethical materials; Piñatex®, ECOPET®, and lab-grown diamond for the first time Scheduled for release September 2020
CITIZEN L announces three models featuring ethical materials; Piñatex®, ECOPET®, and lab-grown diamond for the first time Scheduled for release September 2020
CITIZEN is pleased to announce three new models for CITIZEN L, the brand committed to advancing environmental and human rights initiatives, will be released in September 2020. The new series, expressing the shimmering beauty of planet Earth, will feature ethical materials such as Piñatex®, ECOPET®, and lab-grown diamond for the first time for CITIZEN.
*Price and release date are to be determined.
 

CITIZEN L —CITIZEN's preeminent women's watch brand renowned for fine jewelry-like elegance and beauty — has pursued approaches that incorporate sustainably produced and environmentally friendlier processes and materials in the lineup since 2016. These include ethically obtained materials and commitments* to people and society worldwide, as well as the introduction of Eco-Drive*1 power source that uses light to power watches and does not require battery replacement.
*Ethical commitment: See reference material at bottom

This new series in the CITIZEN L AMBILUNA*2 collection embodies the brand's state of mind regarding sustainability and the future. The creative inspirations evolve from "Earth, Water, Fire, and Air" and the natural wonders that motivate our direction for the future. This inspiration comes from Greek philosopher Empedocles who named the elements the four "roots" from which all matter derives.

The new watch models incorporate lab-grown diamonds on the dial for the first time and uses Piñatex® materials made from recycled pineapple leaves for the band construction. What's more, CITIZEN also introduces ECOPET® (polyester fiber) which utilizes recycled polyester fibers. The new material enhances the texture as well as comfort.

The case construction comprises CITIZEN's unique material Super Titanium™*3, which is lightweight, gentle on skin and highly resistant to scratches. The case design is asymmetrical with lugs at the 12 o'clock and 6 o'clock positions. This unique design permits the watch to be easier to wear and prevents the face position from being displaced when worn.

CITIZEN L will continue to make endeavors toward newer sustainable manufacturing that emphasizes the importance to the environment, our global society, and people the world over.

 
[Product Feature]
 
A sustainably produced watch that exemplifies the beauty of Earth
 
Three models of the signature AMBILUNA lineup embody CITIZEN L's commitment toward sustainable production. Inspired by "Earth, Water, Fire, and Air" elements these awe-inspiring designs showcase the natural beauty of the Earth by featuring materials that represent the appearance of the individual elements. A model inspired by "Water" will be announced in 2021.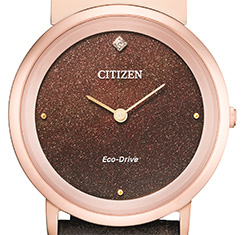 Inspired by Earth
Imagined by the boldness, yet gentleness of the Earth which nurtures all life. The dial has an earthy brown gradation with bold lamé to express fresh rejuvenation of the land after rainfall. Lab-grown diamonds are placed at 12 o'clock. The strap uses Piñatex®- a sustainably produced material made from pineapple leaf. Even the texture of the fibers is carefully preserved, further expressing the intricacies of our Earth.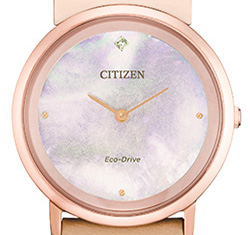 Inspired by Fire
The ethereal atmosphere of the sky is expressed by imagining a provocative sunrise as a color dye which splashes the sky with moments of color gradation and subtle shadows of mother of pearl on the white dial. A lab-grown diamond is positioned at 12 o'clock. The band uses ECOPET® — a sustainably produced material made from recycled plastic bottles.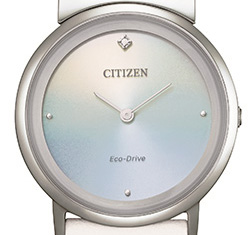 Inspired by Air
Inspired by the rejuvenating breath of life-giving air, this model conveys the impression of transparent freshness. The dial changes color from blue to beige depending on the viewing angle, creating an organic-like atmosphere. A lab-grown diamond is positioned at 12 o'clock.
The band uses ECOPET® — a sustainably produced material made from recycled plastic bottles.  

CITIZEN L uses environmentally friendly and sustainable materials for the first time
 
To conserve the beauty of the Earth now and for the future, CITIZEN adopts materials that have low impact on the environment.
 
- Uses lab-grown diamond on the dial
For the first time, CITIZEN utilizes a single lab-grown diamond that has low impact on the environment, at the 12 o'clock position.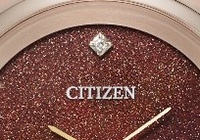 Lab-grown diamond
Lab-grown diamonds have the same the chemical composition, hardness and brightness of naturally occurring diamonds. The advantages of lab-grown diamonds, however, are considerations to the environment, safety and labor practices in mining for them, and the peace of mind knowing these diamonds are lab-grown. CITIZEN L lab-grown diamonds are supplied by Swarovski, which is RJC (Responsible Jewelry Council) certified.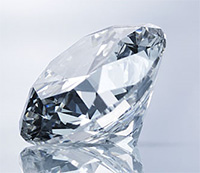 - Sustainable materials Piñatex® and ECOPET® are used in the band construction
 
Piñatex®
*Adopted model: EG7072-19X
Often called "pineapple leather" Piñatex® is an alternative material to animal skin leather products, made entirely of discarded pineapple leaves and extracted fibers.
In addition, the by-product extracted from the fiber is used as a natural fertilizer and bio-fuel because of its rich nutrient content, and leaves no waste.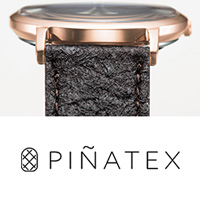 ECOPET®
*Adopted model: EG7070-14A、EG7073-16Y
Recovered PET bottles are melted and recycled using material Recycling technology. The process reduces CO2 emissions as compared to petroleum as a raw material. The finished material characteristics are soft and resilient.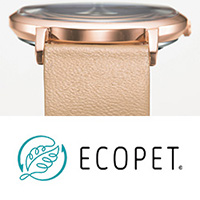 The use of Super Titanium™ - Asymmetrical case design for easy wear
 
The case is made from CITIZEN's proprietary titanium material Super Titanium™, which is lightweight, skin-friendly, and scratch-resistant. In order to maintain the face position from natural wear and keep it from shifting to the 12 o'clock position, the lug at the 12 o'clock is longer than the 6 o'clock (the part that connects the case and the band), while maintaining a smooth curve on the wearer's wrist.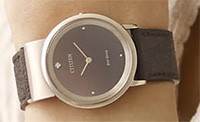 Light-powered "Eco-Drive" equipped
 
All CITIZEN L models feature Eco-Drive — a CITIZEN proprietary light-powered technology that converts solar and room light into electrical energy to power watches.
CITIZEN's Eco-Drive can power watches for at least 6 months with a full charge and from power stored in a secondary battery, without the need to replace the batteries. This further reduces waste of battery disposal.

 
[Product specifications]
 
 
Brand product name
CITIZEN L Ambilna
Model
EG7072-19X
EG7073-16Y
EG7070-14A
Launch(Projected)
September 2020
Price(projected)
USD 490.00
USD 490.00
USD 490.00
Case (color)
Super Titanium™
Duratect*4 Sakura Pink*5
(Pale pink color)
Super Titanium™
Duratect Sakura Pink
(Pale pink color)
Super Titanium™
Duratect Platinum
(Light silver color)
Band (color)
Synthetic leather (Piñatex®)/dark brown
Synthetic leather (ECOPET®)/beige
Synthetic leather(ECOPET®)/white gray
Glass
Spherical sapphire glass
Spherical sapphire glass
Spherical sapphire glass
Dial color
Brown
1 diamond (lab-grown diamond)
Pink beige (Mother of pearl)
1 diamond (lab-grown diamond)
Beige blue
1 diamond (lab-grown diamond)
Case diameter/thickness
31.00 mm / 6.0mm (design specification only)
CO2 emission
8.3kg
8.3kg
8.3kg
Specification
Cal.G620 / Accuracy ±15 seconds / Eco-Drive running for 8 months on full charge / W.R. 5 BAR
Cal.G620 / Accuracy ±15 seconds / Eco-Drive running for 8 months on full charge / W.R. 5 BAR
Cal.G620 / Accuracy ±15 seconds / Eco-Drive running for 8 months on full charge / W.R. 5 BAR

*1. Eco-Drive is CITIZEN's proprietary technology that powers watches using any natural or artificial light source, eliminating the need to replace batteries. Certified as an Eco Mark product for the first time in the watch industry.
*2. AMBILUNA: Iconic collection in the CITIZEN L brand. The prefix "ambi" is a reference to the ambient environment of light and wind, and ambiguity which suggests the natural, mysterious changes that occur in nature. This is combined with "luna" in reference to the influences of the moon.
*3. Super Titanium™ is CITIZEN's proprietary technology to treat solid titanium with surface hardening technology. It is at least 5 times harder than stainless steel. In the 50 years since CITIZEN introduced the world's first titanium watch, SuperTitanium continued to evolve. It is highly resistant to scratches, lightweight and gentle to the skin for wearing comfort. (Vickers hardness of stainless steel is about 200 Hv) 50 th Anniversary of Titanium Technology:https://www.citizenwatch-global.com/titaniumtechnology50th/index.html
*4. Duratect is CITIZEN's proprietary surface hardening technology that enhances the surface hardness of metals such as stainless steel and titanium, protecting watch bodies from scratches and damage. This technology offers excellent abrasion quality and maintains lustre of metals for long periods of time.
*5. Sakura Pink: Adopting surface-hardening technology that protects the surface of watches from scratches, Duratect is CITIZEN's unique technology allow the expression of a wide range of colors such as silver, gold, and pink-gold. Duratect "Sakura Pink" which is neither rose gold nor pink gold, has subtle color and brilliance, combines scratch-resistant "strength" and long-lasting "beauty" and is sought-after by wearers the world-over.

 
[About CITIZEN L]
 

Since its establishment in 2012, CITIZEN L brand watches have adopted a position of creating watches that are sustainable, environmentally friendly and observe human rights. The brand has expanded to nearly 50 countries around the world, namely in Europe and North America. Every effort is made toward improved ecology and the maintaining our commitment to the future, including using Eco-Drive, the release of product composition data, DRC conflict-free information, CO2 emissions disclosure, and digitization of product manuals, the adoption of sustainable packaging materials, and the usage of ethical materials.

 
Citizen L special site  https://citizen.jp/citizen_l/
Citizen L Official Instagram @citizenlwatch  https://www.instagram.com/citizenlwatch/

 
[About CITIZEN]
 

CITIZEN WATCH is a true manufacture d'horlogerie with a comprehensive manufacturing process that extends from creating a watch' s individual components to its final assembly. The company operates in more than 140 countries around the world. Since its founding in 1918, CITIZEN have held the belief of "Better Starts Now" — that is, no matter who you are and what you do, it is always possible to make something better, and now is the time to start doing it. Sharing this belief, we have made watches, invented and improved technologies and explored the future of watches such as our proprietary light-powered Eco-Drive technology.

 
*Eco-Drive, Super Titanium, Duratect, are registered trademarks or trademarks of Citizen Watch Co., Ltd.
Piñatex® is a trademark of Ananas Anam UK Limited
*ECOPET® is a trademark of Teijin Co., Ltd.
*The content of this release is up to date at the time of this announcement. Product design and prices, release dates, specifications, etc. are subject to change without prior notice.


 
Reference
 
CITIZEN L's ethical commitment. What we can do for the Earth, society and people.

1. Disclosure of materials
We want our customers to be able to wear our watches with complete peace of mind. This is why we are completely transparent about disclosing all the materials involved in their manufacture, including chemical materials (what and how much).

2. Disclosure of CO₂ emissions (third-party verification, a watch industry first in Japan*)
The first step toward reducing your CO₂ emissions is to analyze how much CO₂ a product actually emits. This is why we calculate the total volume of greenhouse gases emitted during the product lifecycle — from procurement of materials and manufacturing to the life and eventual disposal of the watch. We present the result in easy-to-understand terms: "This watch equates to xx kilograms of CO₂."
* CFP Program certification of the Japan Environmental Management Association for Industry. Surveyed by CITIZEN in June, 2020.

3. DRC conflict-free minerals audit
Ensuring that our customers can look good without that entailing misery[??'misery? without the "guilt"? without the "stigma] for anyone else represents a very real customer benefit. For this reason, we refuse to use any minerals sourced from smelters linked to illegal mining operations in the Democratic Republic of Congo (DRC), whose profits to go toward financing armed groups. Titanium, tungsten and tin are all examples of potential conflict minerals.

4. Reduced-size user manual
We dramatically cut the amount paper we use by putting the watch's nine-language instruction manual online. It also enables our customers to access the manual wherever they are. We can also take advantage of the web to provide the information in a more flexible, accessible format.

5. Sustainable packaging
From the perspective of "reuse," we have considered packaging, and created an improved sustainable package for our watches.