News

CITIZEN BASELWORLD 2018 – Satellite Wave GPS F990 Models

CITIZEN launches two new SATELLITE WAVE GPS*1 F990 Limited Edition models
that inherit the design concept of the original SATELLITE WAVE 
featuring satellite timekeeping technology
CITIZEN is proud to announce the launch of the two new SATELLITE WAVE GPS F990 models that are capable of syncing with GPS satellites in space to set the correct times and time zones.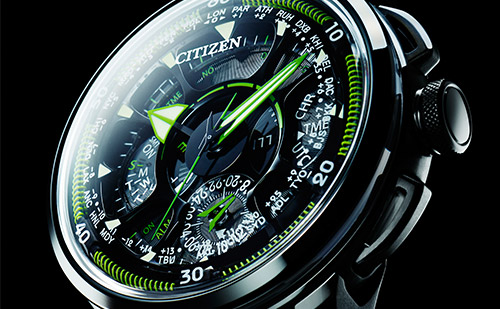 Launched in 2011, the original Eco-Drive*2 SATELLITE WAVE was the world's first light-powered watch that receives time signals from satellites to always show the accurate time—anywhere on the globe. 

Since introducing this groundbreaking innovation, CITIZEN has become a world leader in satellite-synchronized timepieces, continually improving performance and usability. New models feature the latest GPS satellite-synchronized movement F990. 

As an improved version of current F900, it doubles the speed of minute and hour hand spinning compared to the previous model. These new models also inherit the design concept of original SATELLITE WAVE model, which became an epic timepiece, while improving durability by adopting Super Titanium™*3 case.


Functions
Doubles the spinning speed of minute and hour hand compared to the previous model.
Corrects time and calendar by syncing with GPS satellites.
Shows the time in two different world time zones simultaneously, and switches between home time and local world time easily in one step.
1/1 second chronograph measures 24 hours.
Light Level Indicator*4 detects and displays the intensity of light striking the dial in seven levels.

Design
Inherits the design concept of original SATELLITE WAVE launched in 2011.
Shares the case design of the original model, which has an image of the earth encircled by a metal ring embedded in the glass bezel that seems to float in outer space to suggest a satellite's orbit.
While the case of the original model was made of ceramics, the new models feature lightweight Super Titanium™ that makes the watches thinner for an improved fit.
Rocket engine inspired multi-layer dial with a feel of depth.
CC7005-16E: The black and green dial suggests the image of aurora (Northern Lights) shining in the ionosphere.
CC7005-16F: Monotone ring suggests the image of a satellite orbiting in the Earth.
 
Model
CC7005-16E
CC7005-16F
Launch (Projected)
Autumn 2018
Price (Projected)
USD3,500.00
Quantity
1,500 pieces worldwide
Case / Band
Super Titanium™ (Duratect DLC*5) / Urethane
Dial
Black
Crystal
Sapphire crystal glass with anti-reflective coating
Case Size
Diameter 48.5mm / Thickness 18.25mm (Design specification only)
Movement
Cal. F990 / Accuracy of ±5 seconds per month (without time signal reception) / Eco-Drive: Running for 1.5 years (5 years with power save function) / W.R. 5 BAR / Luminous (Hands & Index) / Satellite Wave GPS / World time function / Dual time / Chronograph / Alarm / Light-Level Indicator
*1. GPS satellite-synchronized watch captures the date and time signals sent by GPS satellites from space — orbiting 20,000 kilometers above the Earth — bringing ultra-precise timekeeping to wherever people are on the face of the globe.
*2. Eco-Drive is CITIZEN's proprietary technology that powers watches using any natural or artificial light source, eliminating the need to replace batteries.
Certified as an Eco Mark product for the first time in the watch industry.
*3. Super Titanium™ is CITIZEN's proprietary technology to treat solid titanium with CITIZEN's proprietary surface hardening technology, Duratect. 
It is at least 5 times harder than stainless steel, resistant to scratches, lightweight and gentle to the skin for comfortable wearing.
*4. Light Level Indicator detects and displays the intensity of light striking the dial (which generates the electricity to run the watch) in seven levels, allowing wearers to easily gauge the charge level in any given situation. 
*5. Duratect DLC achieves Vickers hardness of 1,000-1,400 by coating an amorphous carbon hard film—mainly composed of carbon and hydrogen—on the surface of the material

CITIZEN WATCH,, marking its 100th anniversary in 2018, is a true manufacture d'horlogerie with a comprehensive manufacturing process that extends from creating a watch' s individual components to its final assembly. The company operates in more than 130 countries around the world. Since its founding in 1918, CITIZEN have held the belief of "Better Starts Now" — that is, no matter who you are and what you do, it is always possible to make something better, and now is the time to start doing it. Sharing this belief, we have made watches, invented and improved technologies and explored the future of watches such as our proprietary light-powered Eco-Drive technology and state-of-the-art satellite-synchronised timekeeping.


*The final design and specifications are subject to change without notice.
*Eco-Drive, Light-level indicator, Super Titanium™ and Duratect are registered trademarks or trademarks of Citizen Watch Co., Ltd.
*The availability, specifications and related information such as product code for the models featured in this site, may vary by markets. If you would like to know more details, including the availability of this products in your area, please select your "Local Website" from our global site.